Christmas is coming, and Christmas lights must be prepared in advance. In the past, Christmas lights were hung on the Christmas tree or on strings every year. So what are some new Christmas light fixtures for 2023?
The answer is: Of course, the lamps produced by golden vessel are all newly developed and designed with a large number of user-favorite elements. They also support personalized customization and 2-year warranty service. Don't worry too much. Next, let's Let's take a look at the 3 most innovative Christmas lights in 2023!
Style 1: C9 Christmas Pathway Lights
Just plug it into both sides of the road and it will emit dazzling light. It is very convenient to use and comes in many colors!
Christmas C9 Channel Lights: Features UL certified Dazzle Bright C9 string lights, safe to use. Designed with IP44 waterproof and shatterproof cover.
FREE TO CONNECT MULTIPLE SETS: The attachable Christmas decorations can connect up to 17 sets end-to-end, with a total length of up to approximately 144 feet. According to the size of the scene you need to decorate, it can meet the needs of various venue decorations to the greatest extent.
PREMIUM QUALITY: The lights and stakes are made of high-quality plastic material, which is less fragile than traditional grass bulbs. IP 44 waterproof, it can be used outdoors regardless of rain or snow. NOTE: Keep plug away from water.
We can meet your market needs. In addition, Bluetooth products are also members of BQB. The factory has BSCI, ISO9001, RBA and Philips qualified decorative lighting supplier certificates.
Style 2: Christmas Candy Cane Pathway Markers Lights
Perfect Christmas Decoration: 10 candy cane lights form a pathway marker for Christmas. These candy canes are illuminated by bright lights, pointing the way home to the family. It is an ideal choice for Christmas display, perfect for home decoration to create a festive atmosphere .
You get 10 candy cane pathway markers- Each candy cane is 10" tall for a total lighted length of approximately 11 feet.It can also be customized to the size you want
Connectable Christmas Decorative Lights: Each light set comes with end-to-end plug and stackable plug, can be connectable up to 14 sets, expandable up to a long length allow you to decorate your lighting area with the desired length. High quality UL certified products ensure the safety of you and your family.
Style 3: Neon Snowflake Motif Light
Neon effect Warm White with Six Pure White Meteor lights inset.
58cm wide x 52cm high or custom.
Low voltage with 7M of lead wire.
Suitable for indoor and outdoor use (Transformer must be undercover or in a Dry Box).UL, CE certificate.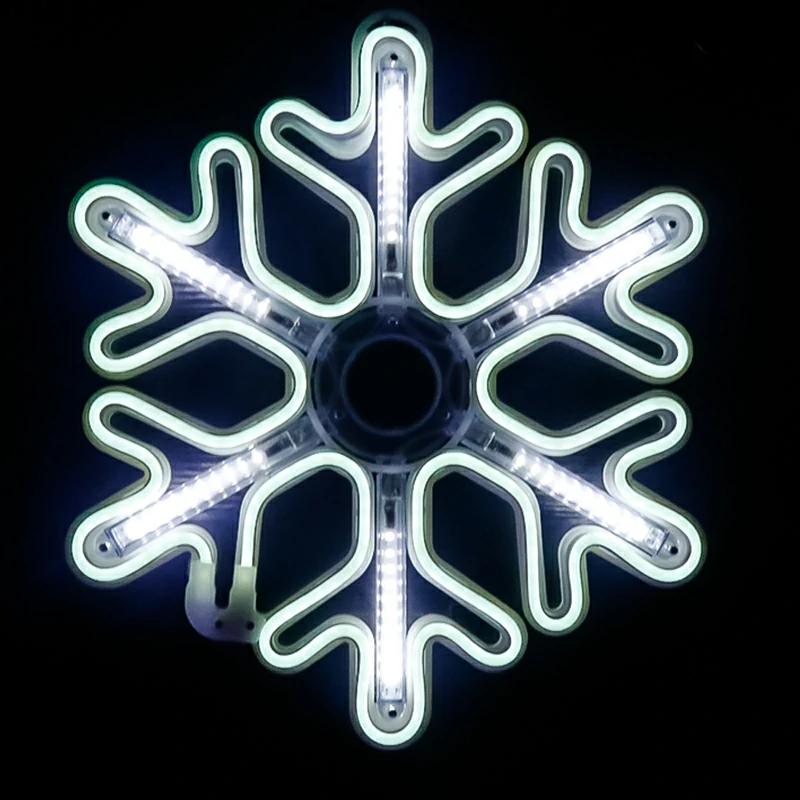 The above 3 models are the 3 most novel Christmas lamps in 2023 that the editor has compiled for you. After reading them, if you still have questions about Christmas lamps, please contact golden vessel for more product ordering information!
​